2017 Dodge Charger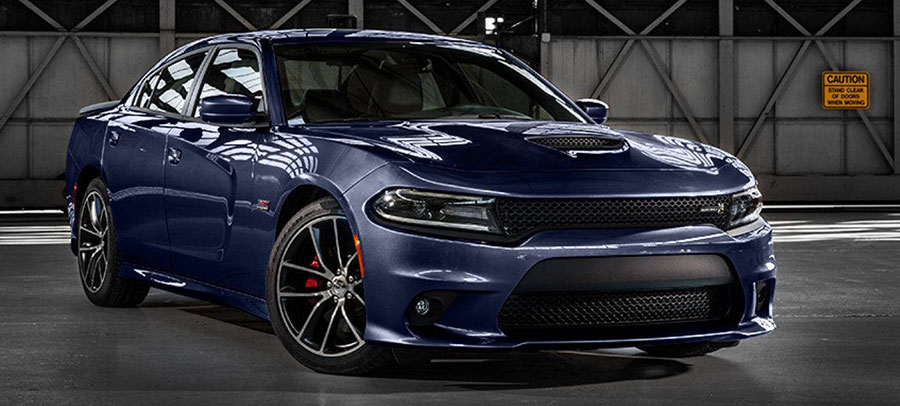 There's nothing more American than the massive power and bold styling you get with the 2017 Dodge Charger. This large sedan isn't merely seductive and powerful – it handily surpasses high-performance rivals with its roomy cabin and cargo space.
2017 Dodge Charger
The 2017 Dodge Charger fulfills your need for speed with any of its engine options. Even the base V6 gets your heart pumping, with 292 horsepower and a seriously responsive eight-speed automatic transmission. If you're in the mood for true V8 adventure, you can choose from three options, the most generous of which is the Hellcat's supercharged, 707-horsepower power train. In any event, your Dodge Charger is the only full-size sedan on the road with the potential to run down NASCAR stock.
The Charger is unique: a high-performance model with a family-friendly cabin. Rivals simply can't compete with the Charger's impressive passenger space, front and rear. The trunk has also got it where it counts, with 16.5 cubic feet for your golf clubs and overnight bags. Other performance-oriented models will force you to pack a lot less for your weekend getaways. Then there are the Charger's high-end comfort features, which make you feel like you're speeding down the highway in a classic luxury sedan. When winter arrives, two rows of heated seats keep passengers nice and summer is no sweat with ventilated front seats.
Dodge's state-of-the-art technology lineup includes everything you need to keep up with friends – all without lifting a finger from the wheel. The 2017 Dodge Charger's Apple CarPlay and Android Auto technology is especially impressive. It displays vital apps right on the Charger's central touchscreen, and it even lets you use sophisticated voice controls to access those apps. The system will even read your text messages for you. Smartphone addicts can stay safe – all without ever missing a beat. In addition, the Charger's Uconnect infotainment system is one of the best on the road, with easy-to-operate menus and a touchscreen that's quick to respond to your input. You're unlikely to find yourself ever jabbing at this modern touchscreen in frustration – quite the opposite, in fact.
In the 2017 Dodge Charger, raw speed comes with superlative safety. In government crash tests, this high-performance sedan landed a perfect five-star rating for overall protection. The Insurance Institute for Highway Safety gave the Charger its top score of "Good" in a number of crash tests. Moreover, your breakneck performance is accompanied by anti-lock disc brakes that provide serious stopping power, bringing you to quick stops, even from high speeds. When you add high-tech driver aids, the Charger keeps an extra eye out for danger. The forward collision warning system, for example, detects an oncoming crash. In addition to alerting you to the problem, it can even automatically apply the brakes to help you avoid excessive damages.

Charger R/T Scat Pack
The muscular powerhouse gets added impressive power with this option, a 485 horsepower, 6.4-liter HEMI V8 with Scat Pack grille badging. Active valve exhaust, impressive color selection, and a collection of available options (20-inch wheels, Beats Audio, leather interior with Alcantara performance seats) turn the R/T into a thing of powerful beauty that you'll want to drive anywhere you can.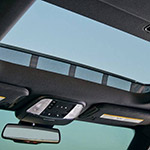 Power Sunroof
Bring the outside in when you're cruising the city streets or burning up the track.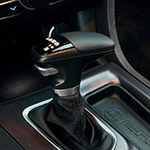 Performance Inspired Shifter
This shifter makes you feel like you're driving a sports car–and you are!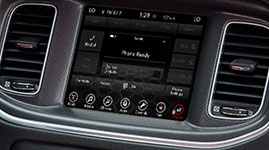 UConnect
Infotainment options are on full display, with apps and Bluetooth technology to help you stay safe while you stay connected.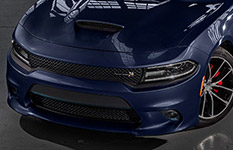 Crosshair Grille
It's hard to lose your cool when you have this kind of intimidating styling on your side.