2017 Jeep Wrangler Unlimited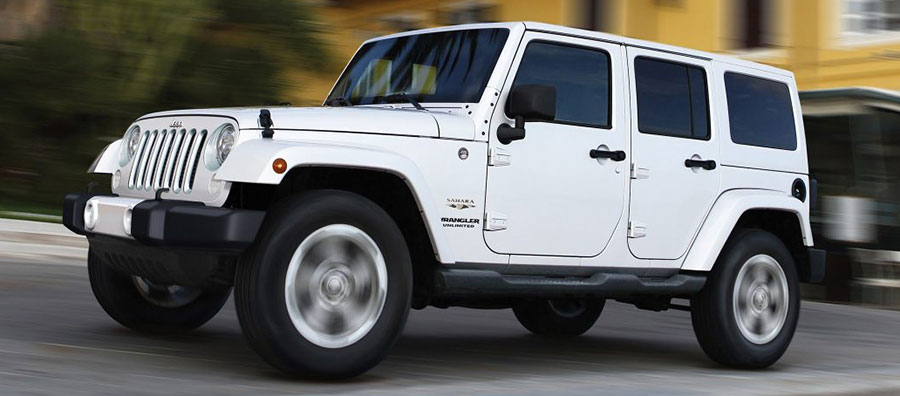 Are you an off-roading legend? Do you want to become one? If so, the 2017 Jeep Wrangler Unlimited is probably on your radar and for good reason. The Wrangler Unlimited is an icon of adventure travel whether driving up mountains or on safari.
2017 Jeep Wrangler Unlimited
The Jeep Wrangler Unlimited is famous for its off-road capability. Each vehicle comes proudly bearing a Trail Rated Badge, meaning that the Unlimited has been put through the ringer in snow, rock, sand, and mud. You also have a choice of either Command-Trac (with equal power to all four corners) or Rock-Trac (with a 4:1 low gear ratio for greater torque) 4×4 systems. When you put this together with the Wrangler's already legendary traction, ground clearance, and water fording ability, you will feel confident no matter what the trail throws at you.
Another thing the Wrangler Unlimited has that no one else does is its signature look. The Freedom Top has a lot to do with that. The Wrangler Unlimited's Removable and interchangeable top gives you the freedom and flexibility to adapt your Adventure-mobile to your lifestyle or climate. The Wrangler has the option of going with the hard top, the soft top, or going topless. Even with the top removed though, you still have the roll bar just in case. The doors are customizable as well. You can have full doors, half doors, or no doors to give you a drive that is freeing and exciting.
Just because you like to use your Jeep Wrangler Unlimited to leave it all behind doesn't mean you want to leave it ALL behind. The audio jack for mobile devices lets you play your favorite music while the 115V power outlet allows you to keep your phone fully charged. Plus, the folks at Jeep have given you the Alpine All Weather Sound System option so that even when you are trekking in the rain or fording a river, you can still enjoy the full feeling of nature without worrying about your system getting wet.
If you're going on an expedition across the frozen north, like you might if you're the kind of adventurous spirit who fits with the Wrangler Unlimited, the heated front seats will come in handy. Another smart feature is the locking center console so that even when you eventually do come back to the city, for fuel and provisions, you can still go topless and doorless without worrying about your valuables getting stolen. Plus, the Wrangler Unlimited comes with washable interior with drain plugs. So when you take a little more of the mud bog home with you than you anticipated, just hose it out.

Wrangler Unlimited Rubicon Recon
If you are already a self-proclaimed off-road legend and you want to take it to the next level, the Rubicon Recon is the trim for you. In addition to the expedition-ready Wrangler Unlimited's features, you get extra undercarriage protection with Premium Off-Road Rock Rails and tread plates and a military-inspired DANA 44 Front Axel. In short, that means the axel is thicker and even stronger.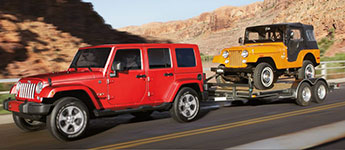 Impressive Tow Capacity
The Wrangler Unlimited has a towing capacity of 3,500lbs.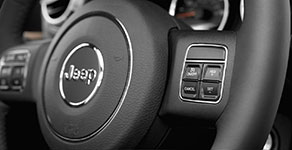 Steering Wheel Controls
Steering wheel audio controls keep your hands on the wheel.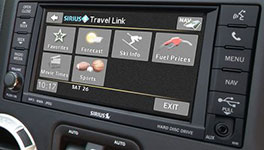 UConnect
The touch screen with UConnect Navigation helps you get back no matter how far off the trail you are.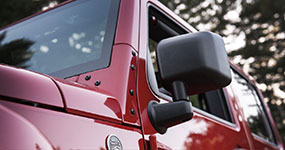 Foldable Side Mirrors
Foldable mirrors can give you the little bit of extra space you need in tight spots.