2017 Ram Promaster City

Whether you are looking to upgrade a work van for your already thriving business or to move your business out of your old minivan, the Ram Promaster City has all the cargo room you'll need to help your business succeed. Its space, capability, and money saving options make the Promaster City the perfect choice for you.
2017 Ram Promaster City
First, the Promasater City Tradesman comes with Best in Class cargo space. With 131.7 cubic feet of cargo room, you'll have plenty of space for upfitting and your gear. The best in class is in part because of the best in class space between the wheelwells. With more than four feet between the wheels, you'll have no problems stacking plywood, shuttling an A/C unit, or carrying your plumbing supplies. Plus, the nearly vertical interior walls make outfitting your Promaster City with shelving easy.
The outside of the Promaster is just as functional as the inside. The roof rack has an awesome 150 lb limit, giving you some extra room to haul your ladders, plumbing, rebar, 2×4's, or whatever you need. When you start loading into the cargo area, you'll first notice the 60/40 split rear doors. The split keeps the curb accessible when the doors are open. The doors also lock at 90-degrees or 180-degrees to keep them out of the way and keep you focused on what you're doing. When you factor in the lower floor height for getting in and out, you can see that the Promaster is all about making your job easier.
The low floor height also means a lower loading deck. The 21.5 load floor makes gear or deliveries out easy. And with the low deck height comes best in class payload. At 1,883 lbs of payload capability, along with the best in class cargo room, means that you'll have to make fewer trips saving you time and money. If that isn't enough for you, the Promaster City also has a literal ton of towing power.
The 2017 Ram Promaster City doesn't just make your job easier–it also saves you money. The Promaster adds highway gas mileage to its list of best-in-classes. With 28 highway miles, you can get to more jobs with less fuel stops. The front wheel drive also saves you maintenance money. Front wheel drive means no rear differential, less parts, and less maintenance. All this plus the 10,000 mile oil change interval and you have yourself an investment that helps pay for itself.

Promaster City Wagon SLT
The Promaster doesn't just come in the cargo van option. If you need to transport more people than stuff, the Wagon SLT comes with seating for five with 9 different seating configurations that fold and tumble. Even with the extra row of seats, the Wagon SLT still has 101.7 cubic feet of cargo room. This makes it a great work van or a minivan/SUV alternative.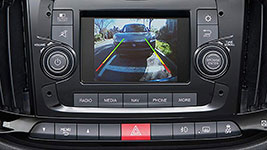 Parkview Backup Camera
When you're loaded top to bottom, having an extra view is invaluable to safely manuevering.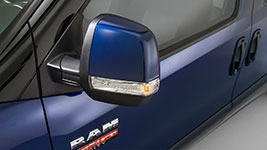 Foldable Side View Mirrors
You can slip into a tight garage with ease with these folding mirrors.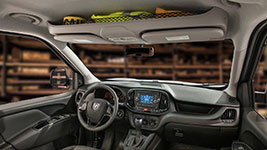 Overhead Storage Shelf
Keep lightweight gear close at hand, but out of your way, with this storage area.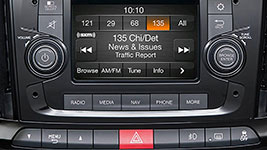 UConnect
This tech-savvy option allows you to use Bluetooth, GPS, and more through the touchscreen.